Our Current Artificial Reef Projects
These are proposed projects, and are still in the planning and funding stages. Please consider donating.
Please click on each project for details.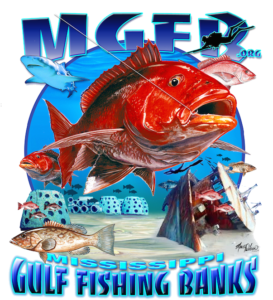 Bel-Bru Family Reef Project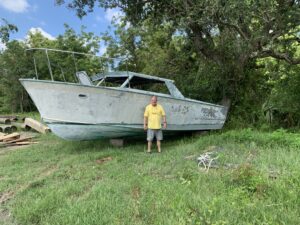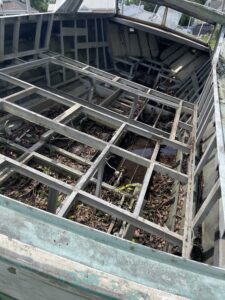 Bel-Bru Family Reef Project
The Bel-Bru is a 32′ aluminum boat that was originally built in the 1960's for Mr. Edward J. Brou. He was a co-owner of Bel-Bru Sporting Goods which opened its doors on November 1, 1946 at 112 East Howard Avenue. The business, in addition to vending a complete line of athletic goods, was also the local distributor for the 'Devil' boats manufactured by the Kennedy-Moran Enterprises. For many of years Mr. Edward and his family had the pleasure making many of memories from fishing and pleasure cruising from this boat. The Bel-Bru boat will be sunk in honor of Mr. & Mrs. Edward J. Brou. We would like to give Special Thanks to Cookie & Valerie Brou for their kind donation of The Bel-Bru. Expected deployment is mid-March.
Chevron Project

Chevron Donates Equipment for Offshore Marine Habitat
Chevron's Pascagoula Refinery has partnered with Mississippi Gulf Fishing Banks (MGFB) to donate surplus equipment for use as artificial reefs offshore. Five carbon steel structures from a recent refinery project were slated for recycling when a Chevron worker suggested instead repurposing the equipment as artificial fishing reefs. Four of the structures weigh approximately 15 tons each, and are 20 feet high and 40 feet wide. The fifth structure weighs roughly 10 tons, is 45 feet high and 10 feet wide. Chevron also presented a $30,000 check to MGFB on Monday. That money goes directly toward the deployment of the reef. "This is the first time the Pascagoula Refinery has donated equipment for a reef, and it is exciting to partner with MGFB on this project," said Pascagoula refinery operations manager Christine Haswell. "The Pascagoula Refinery is proud of the support we provide to environmental organizations in the area, and we look forward to seeing this new reef flourish in the Gulf."